Is there any more desirable truck from the 1970s than the International Harvester Scout? The trouble is, they weren't exactly built to last, and their ancient engines combine minimal performance with maximum thirst. So what do you do if you want to drive one? Well, if you're NEMO Equipment founder Cam Brensinger, you commission the best Scout shop in the country to put all those good looks on a modern chassis, then add a 430 HP V8.
"At NEMO, we have a program where we upcycle old samples and fabric rejects into new products," Cam tells us. "There's a real pleasure in saving a beautiful object from a landfill and breathing new life into it." He's talking about stuff like the brand's luggage tags and wallets, which are made from spare tent fabric. But the same approach can be applied to cars.
To fulfill his off-road bug, Cam used to modify new vehicles, like the Jeep Wrangler. But this time around, he wanted to go with something classic. "The Scout has a ton of hip '70s character with its bold colors and rally stripes, two-tone tops and faux-wood dash veneers," he tells us. "My wife and I enjoy surfing, and just couldn't imagine a better vehicle to pair with a surfboard."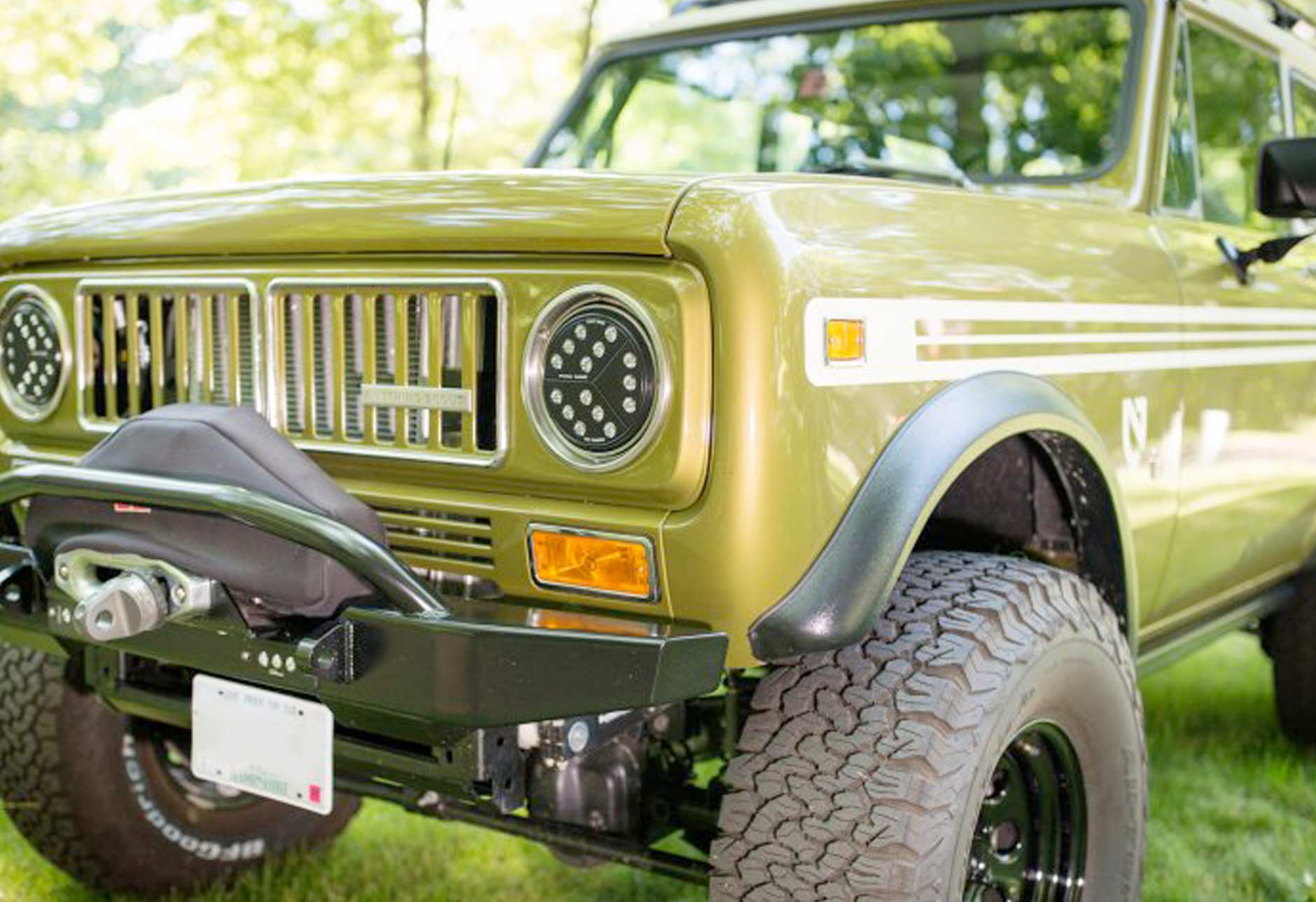 Cam knew he'd need help completing a restoration. While researching shops, he came across Sean Barber's outfit, New Legend. Sean's been putting restored Scout bodies on modern Jeep frames since 2013, so the two got talking and hit it off. "It turned out he and his guys were rock climbers and backpackers, and it just became a no brainer," says Cam.
"The Scout was always meant to be versatile and functional," explains Sean. "It was basically the first true Sport Utility Vehicle." But on today's roads, and in today's modern traffic, it's inefficient motor is underpowered, and keeping the stock chassis compromises both safety and performance. Ditching both allows New Legend to create a modern vehicle that's fast, efficient, capable, and safe.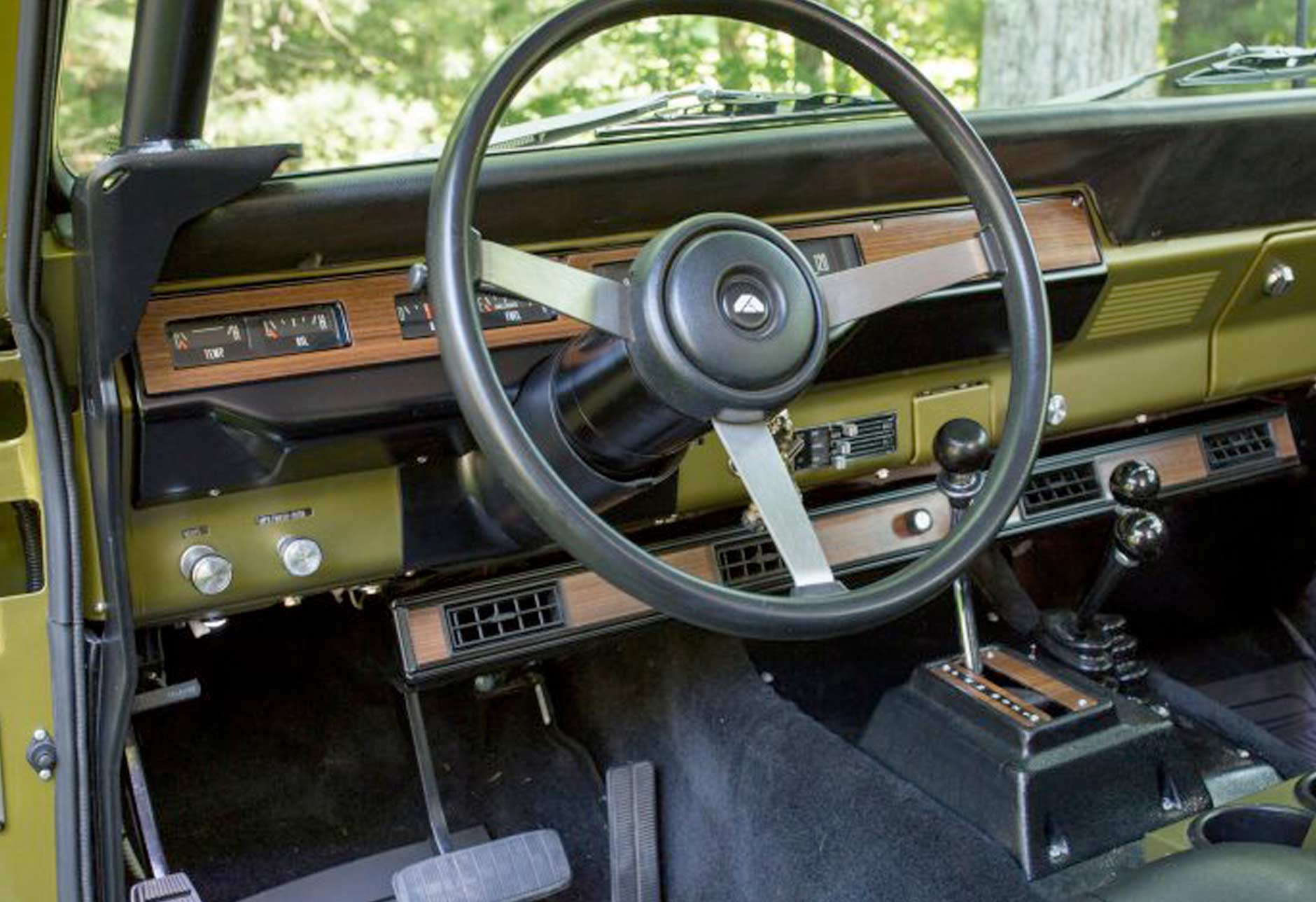 "The mission from the outset was to pair old-school charm with modern driveability," Cam says. "I wanted the truck to be able overland capable, but as simple as possible. In other words: larger tires, good articulation, extended fuel range, and a winch; nothing too overboard." Cam gave that brief to Sean, with one additional requirement. "I wanted to contribute at least one element to the truck. I love woodworking, so I committed to making some real Walnut veneer panels for the dash to replace the original faux-wood stickers."
What'd the rest of the work look like? "Basically we recycled 2004 to 2014 Chevy engines and transmissions, with their full computer controls, and used them to replace the original drivetrains," explains Sean. "This brings about a 50 percent increase in both power and fuel economy, while drastically reducing emissions. Once we get that dialed, we set out to modernize the rest of the chassis and steering of the Scout. We are able to leverage one of the best performing and most capable platforms in production today, the Jeep Wrangler JK, to do this. We modify the chassis so it pairs perfectly with the LS3 motor and the Scout body, while preserving the stock Jeep suspension points."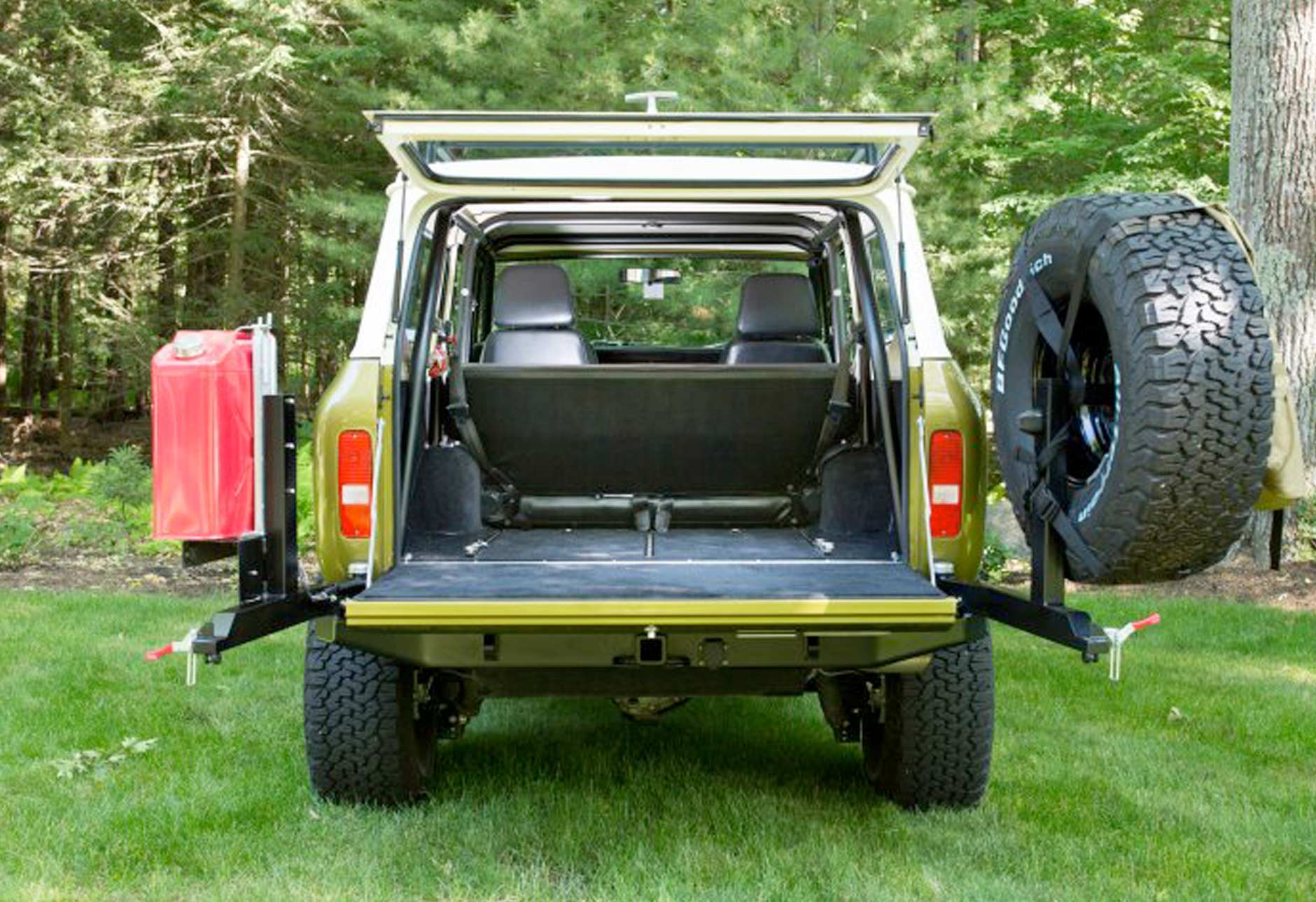 Using the JK chassis allows New Legend customers access to the extensive aftermarket product catalog for modern Jeeps. In Cam's case, that meant high-end off-road suspension components from American Expedition Vehicles—the best in the business. "Paired with the Chevy LS3 motor and the Jeep JK chassis, our Scouts can perform as well or better than any modern production 4×4," claims Sean. One additional benefit? Virtually any garage can work on these things—get your oil changed at Jiffy Lube.
How's it drive? "Cam's assessment is that this truck drives remarkably similarly to his previous late-model AEV-modified, Hemi-converted Jeep, which is exactly our mission. We've watched him crawl over rocks, squeal tires on pavement, do trail braking drifts in the desert, and push triple digits on the speedo. And this Scout does all this with a unique character and charm that's tough to beat."
"Eyes closed, you could probably be convinced that you were in a new truck," says Cam. "But eyes open, you're surrounded by metal-framed windows, louvered metal dash panel, and analog gauges; the kind of quality and charm you just can't buy today."
See the full post at: Outside Online