Vintage 4×4's. Dirt. Sand. Camping. Community. When you combine all of those things into an experience, you've achieved what New Legend 4×4 strives to accomplish. Like many people, I had never experienced a week full of camping and off-roading. Even though I lacked experience, my introduction to the Scout community could not have gone better.
In today's society, it is very easy to be consumed with the newest thing on the market. The age of technology has provided incredible things, but it has caused things of the past to go unnoticed. This is why New Legend takes the innovation from present day and combines it with the vintage look of the past.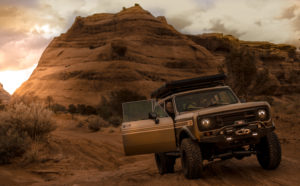 Scouts are the center piece of New Legend, but they are not the only thing with value. Bringing people together by using food, off-roading, and camping is essential to their goal of growing the Scout community- and it really works!
A Trip to Utah
Starting each day with a camp breakfast was great. The smell of sausage and bacon cooking on the disc blade cooker was the perfect wake up call. After a breakfast burrito and a couple cups of coffee, we were ready to hit the trails!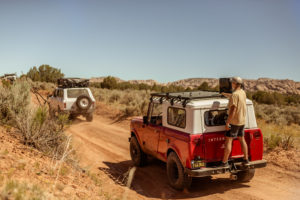 With mountains and canyons as backdrops, our line of Scouts traveled through the trails with ease. The trucks were very capable of tackling the steep, rocky inclines and declines. We had to make a few stops along the way in order to capture the picturesque scenery and enjoy some lunch. Then it was back to the trails to begin the daily trek back to the campground!
As dinner was being prepared, everyone stayed occupied with the frisbee, soccer ball, and skateboard. We then gathered around basecamp and shared in the meal together. A fire was made when the sun fell behind the mountains and the s'mores supplies were spread out. Conversations were had around the fire about life experiences, favorite memories, and of course – Scouts!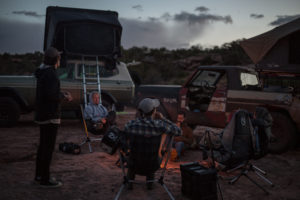 When I returned to my tent each night, I would reflect on the experiences I had as well as my exposure to the vintage 4×4 culture. It was amusing to watch the reactions we would get to the Scouts as we passed people in town and on the trails. These vintage trucks bring a unique and exhilarating feel to camping and off-roading. If you get the chance, take a trip with an International Scout and make memories that will last a lifetime. I'm thankful I did!
– Ben Webster