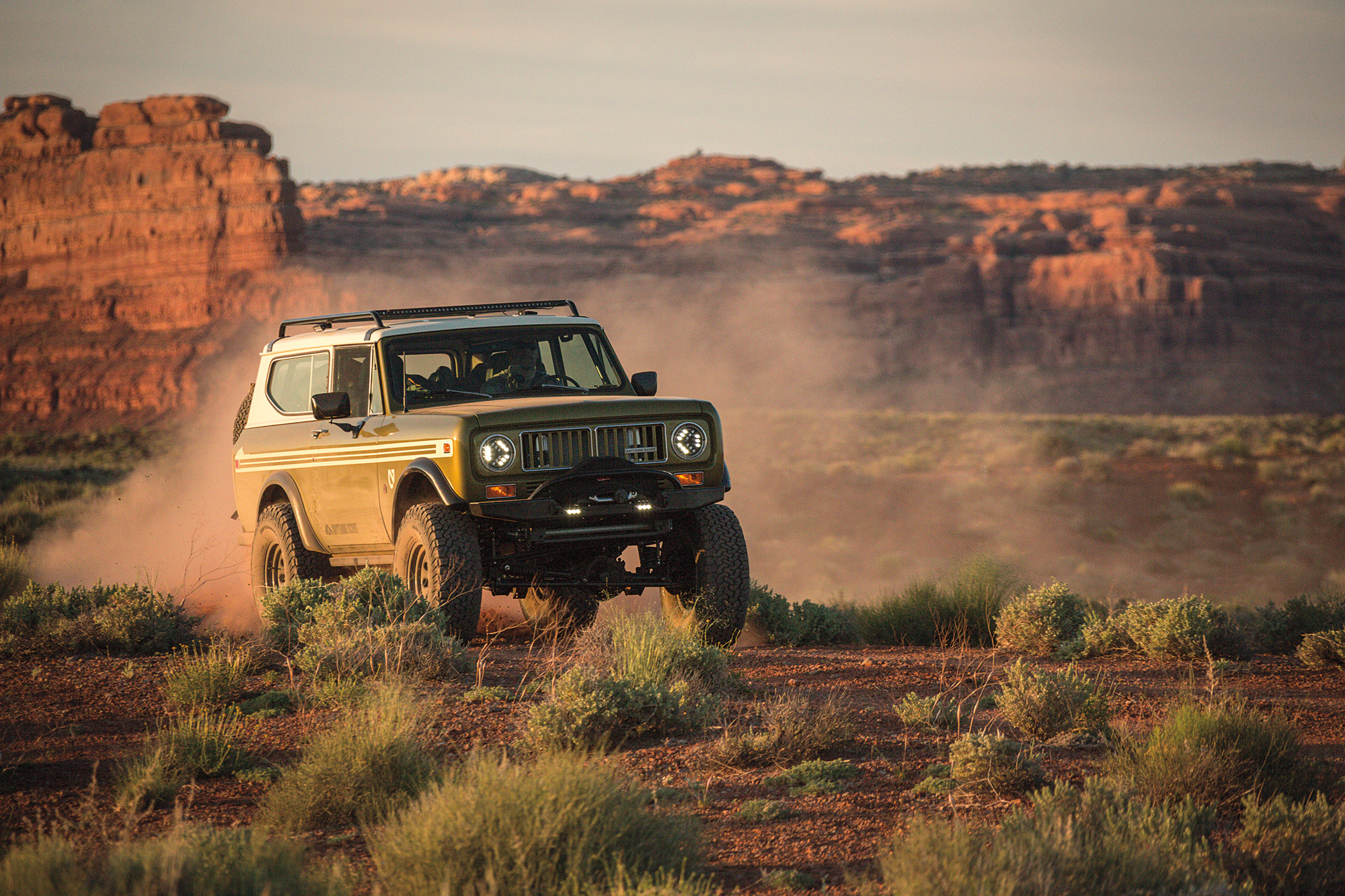 "They just don't make cars like they used to," the old man said as he walked up to the Scout. His sudden appearance took me by surprise, causing me to nearly hit my head while stepping out of the small door. He laughed and ran his weathered hands along the fender. "We built real automobiles back then. Designed 'em to be beautiful and durable—nothing like the plastic junk you see today." He stared longingly at the Scout, almost mournfully. "That was another time of course," he muttered softly. I started to open my mouth to respond, but before I could he turned and walked off into the rain.
He was right; of course, they don't make cars like they used to. Where a craftsman once bent over his bench sculpting a body panel, a robot now shapes and rolls the edges. Machines spray on layers of perfectly applied paint, while autonomous welding and cutting equipment perform their tasks with incredible accuracy. This level of repeated precision leads some to say the art of building automobiles is dead, but I'd disagree.
You see, I've driven old four-wheel drives, fallen in love with their classic beauty, and embraced their imperfections and flaws by calling them "character." I've also cursed their knuckle-busting rusted bolts, abhorred their terrible driving habits, and borne many a forlorn look after they left me stranded on the side of the road. The truth is that we're entranced by the adventure these four-wheel drives promise but betrayed by the limits of their 50-year-old engineering. What we want is the look and feel of a vintage vehicle, with " the reliability and underpinnings of a modern car—the rebirth of the golden age of four-wheel drives, a new legend.

HAND-CRAFTED NOSTALGIA
New Legend is rooted in a passion for design and a love for International Harvester. The owner, Sean Barber, bought his first Scout over 20 years ago, and immediately found appreciation in its quirky yet capable nature. Everything about the old truck stirred his soul, from the sound of the exhaust to the feel of the wheel beneath his hands. Naturally, he bought another, and another, until they were practically members of the family. That's when he realized his devotion was founded on more than just the vehicles; it was also the nostalgia and memories he was creating with them.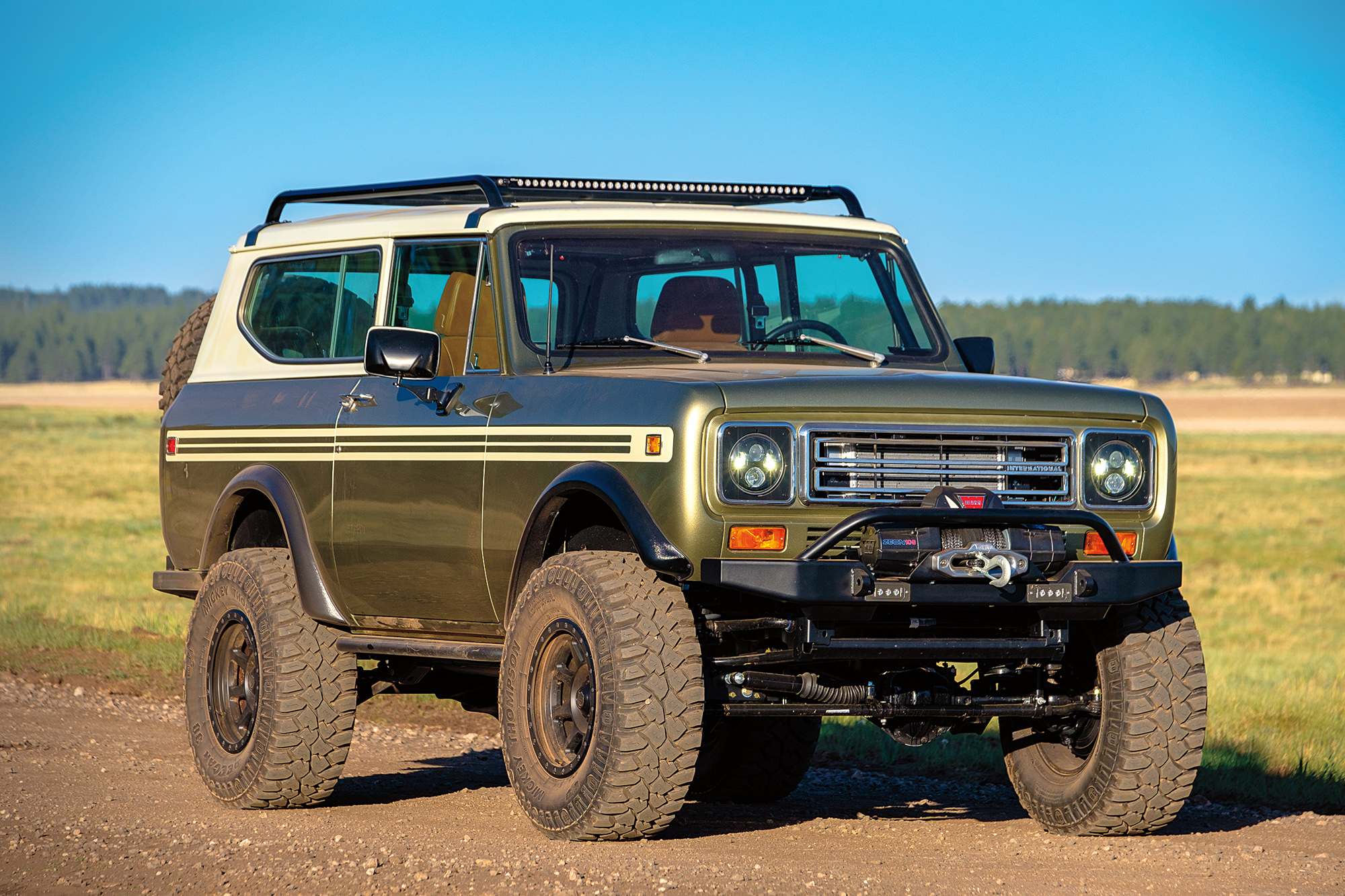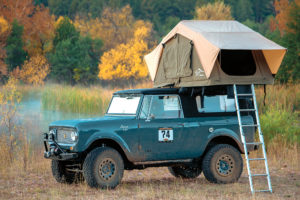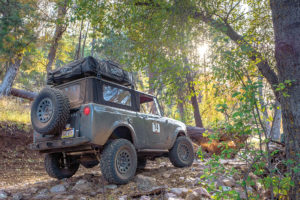 "In 20 years, my family wouldn't look back on a minivan and say hey, do you remember cruising around town in the Sienna? That thing was cool. A vintage truck like a Scout or a Wagoneer, on the other hand, can make any drive an occasion. It doesn't matter if you're picking the kids up from school or just driving to lunch—the journey becomes memorable, significant even. It becomes a bond that can last a lifetime, or perhaps several as you pass the vehicle through the generations."
This revelation spurred Sean into action. He wanted to not only save his trucks but help others do the same. In 2003 he bought a small parts company called Anything Scout with his wife, Heather, and began a journey that would eventually lead him to revive these tired American icons with modern frames, drivelines, and aesthetics.
THE PROCESS
Building such a truck involves far more work than your standard restoration. It's a complete retrofit and customization process that depends heavily on a customer's taste, and it begins long before a vehicle is ever purchased. That's because the first step for Sean and his team is scouring the entire country for the cleanest non-restored shells possible, a task which in itself is a full-time job. Whenever a clean example is uncovered, they bring it back to their shop in Iowa and wait to begin prepping it for conversion.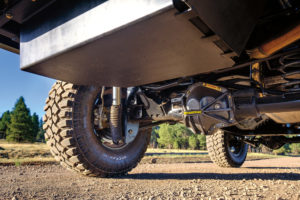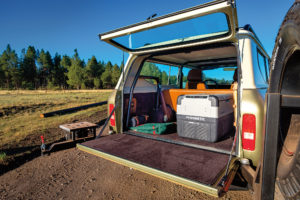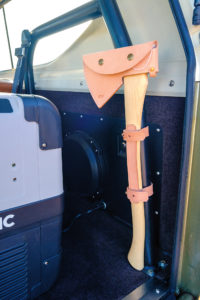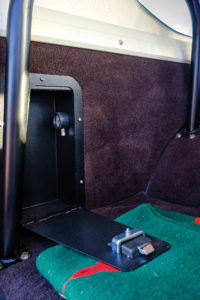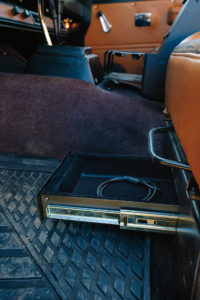 Once a buyer comes along, stage two begins. The original components are stripped away, along with the paint and any corrosion on parts that will be reused. The body is then removed and set aside where it awaits an entirely new set of underpinnings. The old frame is then tossed into a junk heap, and a brand new chassis from a Jeep JK is brought in from the local dealership. Included are matching Dana axles, steering components, hubs, and a slew of other odds and ends that are designed to work with the factory system. This chassis becomes the backbone of the new truck and opens up an entire world of aftermarket components that would otherwise be incompatible. Things like suspensions, lockers, gearing, and wheels that would have been difficult to source for a Scout are now easily serviceable and replaceable.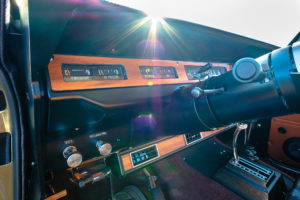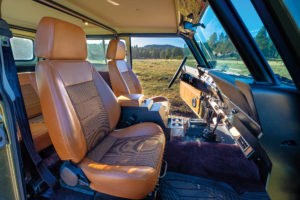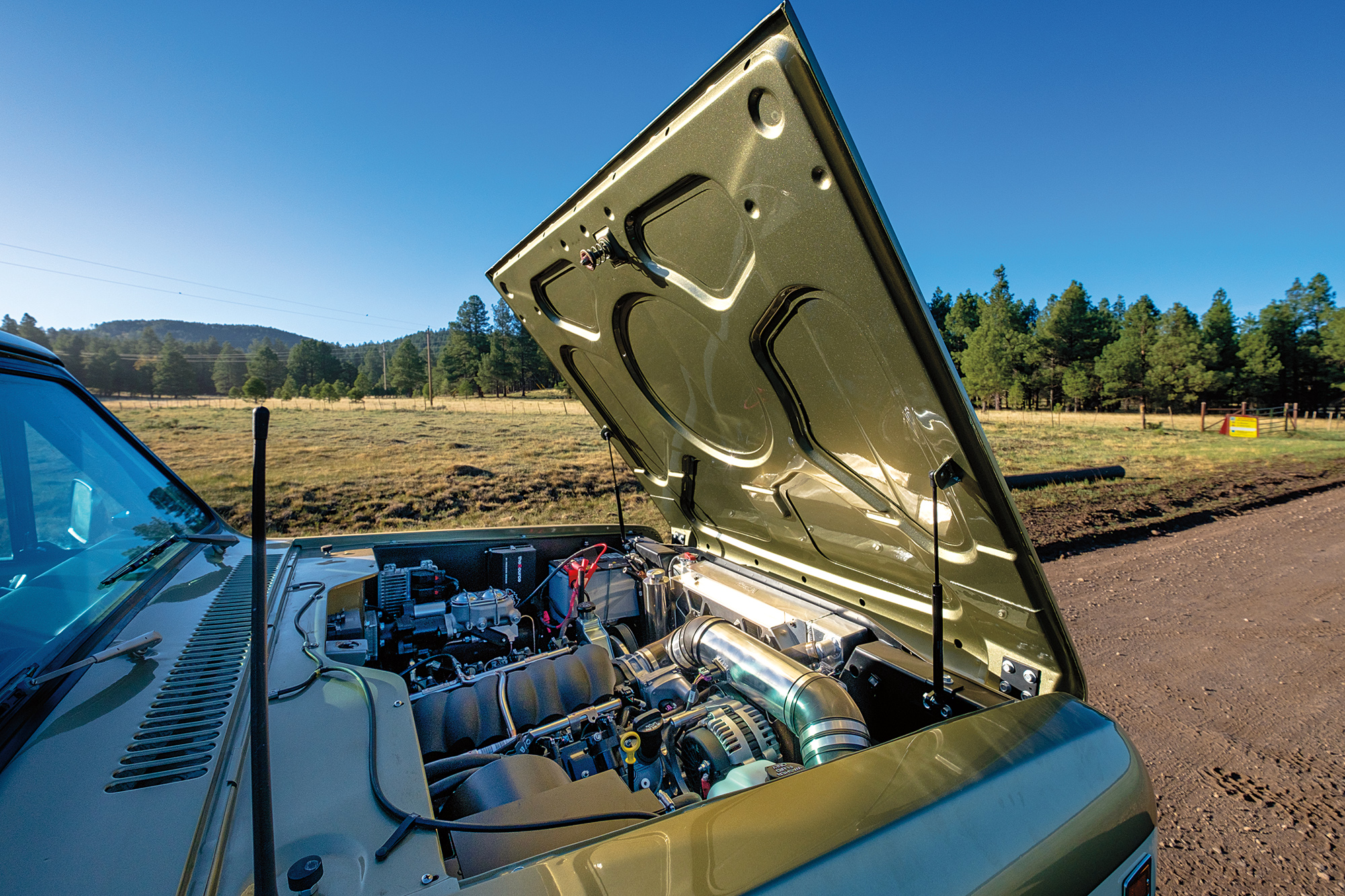 From here, the vehicle enters the third stage and is tailored to the customer's order. They might choose a Cummins 2.8L diesel engine with a 5-speed manual or an LS3 with a 6-speed automatic. Accessories may include a custom integrated fender snorkel or a dual swing-out rear bumper. Exterior colors are limitless: magnetic gray, harvester red, and Ceylon green with a creme brûlée top are just a few samples of what has been chosen thus far. Interiors come in any combination of colors and fabrics you can imagine, and just like the exterior are designed to match your tastes and personal style. We're not here to discuss what could be done though, but rather what has been done. Let's take a look at one of the New Legend trucks we had the chance to experience firsthand last spring.
LSII-FOUR SCOUT II
I first ran into this Scout at Overland Expo West, and like many others, was drawn in by its ginger ale metallic paint and custom, triple-stripe accent down the side. With aggressive tires and the back bumper's mild lift, it was easily one of the best-looking vehicles at the event, but I knew that this truck was more than just a pretty face. Underneath was something extraordinary, even for New Legend's standards.
For starters, they didn't use a factory JK frame and instead went with an Outrider chassis with four-link coil suspension running Jeep JK geometry. This would give the truck exceptional ride quality and performance on the trail, especially once they paired it to an American Expedition Vehicles 3.5-inch lift with 35-inch Mickey Thompson tires. Since this customer planned to use the vehicle off-pavement quite often, the New Legend team dropped a Dynatrac Dana 44 into the front and Dynatrac Dana 60 in the back, giving it plenty of strength to handle whatever terrain or powerplant they threw at it. Still, it lacked the traction control systems modern vehicles rely on, so ARB air-locking differentials were installed in both axles.
Once they had a rolling frame, Sean's team installed a 6.2L LS3 engine from General Motors, which pumps out a heart-pounding 480 horsepower and 425 pound-feet of torque. A new transmission was needed to survive this upgrade, so they picked up a GM 6L80 6-speed automatic, which felt as smooth as any factory setup when driving down Flagstaff 's dusty back roads. For the four-wheel-drive system, the team sourced an Atlas II twin-stick transfer case with Tom Wood's drive shafts running forward and aft. This kept things uncomplicated and mechanical, much like a Scout should be in our opinion.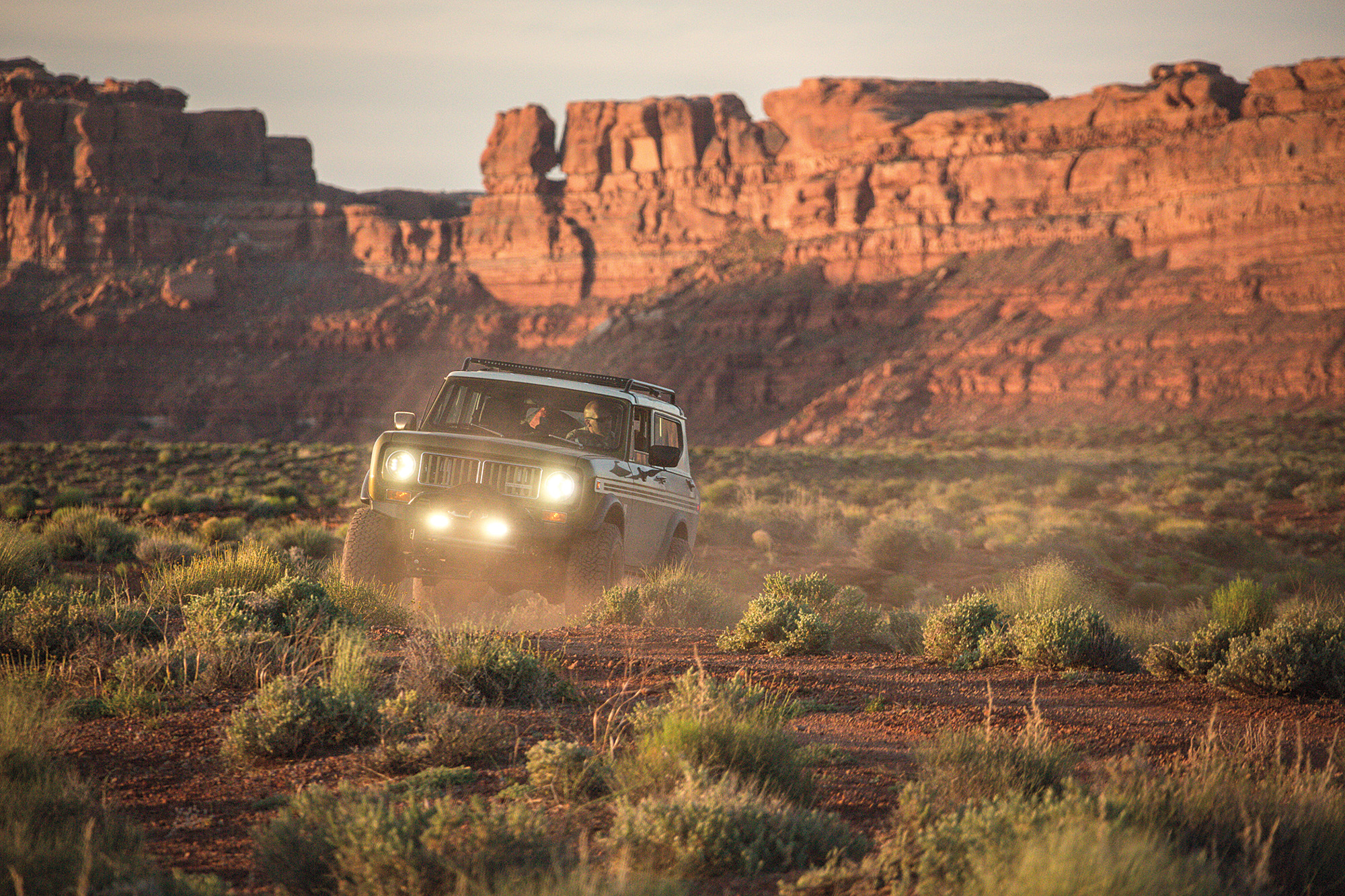 Photo above by Scott Brady
When it came to the exterior, New Legend retained the original 1960's body but made sure it underwent a fair bit of improvement. They reworked the body panels to minimize the gaps found from the factory, then stripped and painted the entire shell. Afterward, they lined the underside and interior floorboards in a polyurethane protective bed coating to prevent the rust and road corrosion bound to occur over years of adventures. Finally, the tired and cracked weather stripping was replaced with brand-new seals to protect the interior from the elements.
Of course, this truck was designed to go off-pavement, so it needed protection from more than just a little rain and dust. To keep
the rocker panels in one piece on the trail, custom rock sliders were added that also double as steps for those who need a boost. A New Legend front bumper was then installed with a Warn Zeon 10-S winch, giving the Scout serious recovery options when things don't go as planned. A matching dual swing-out bumper brings up the rear, sporting jerry can holders and a full-size spare. Both bumpers house flush-mounted LED lights, but they don't quite compare to the gorgeous Putco bar integrated directly into the New Legend roof rack. The finishing touch was a six-point roll cage to keep the occupants protected should an accident ever occur. It even features specially designed legs to maximize space efficiency without compromising safety.
Then there's the interior, which is equally impressive. It began with heavy applications of heat and sound deadening to keep the cabin cool and comfortable while driving. This makes the ride experience more enjoyable, and significantly reduces driver fatigue, something you become intimately familiar with after a few hours on the road in a vintage four-wheel drive.
Once the deadening was applied, things were buttoned up under a restored dashboard with custom gauges for a unique cockpit. Corbeau seats were reupholstered in Italian saddle leather, which was also used on the doors and other accent panels, including the armrest on the locking Tuffy security console. An additional locking storage cabinet was installed in the rear cargo area, along with a Dometic fridge to keep your food and drinks cold.
Now I'll admit that the exhaust on this truck is a symphony worth listening to on its own, but we all want to cruise with some music on occasion; New Legend also added a Focal and Mosconi sound system with a JBL subwoofer. Just add road trip tunes, and you're good to go.
DRIVING A NEW LEGEND
You might be wondering why I'm only just now writing a feature vehicle story on a truck I had the chance to see back in May of 2018, and the answer is easy. I wasn't sure how well it would drive. Plenty of things look great on paper, but what if this Scout lost its luster in the real world? To know for sure, I decided to take one off pavement through Arizona, and from Las Vegas to North Carolina. As it turns out, there was nothing to worry about, because the driving experience was sublime.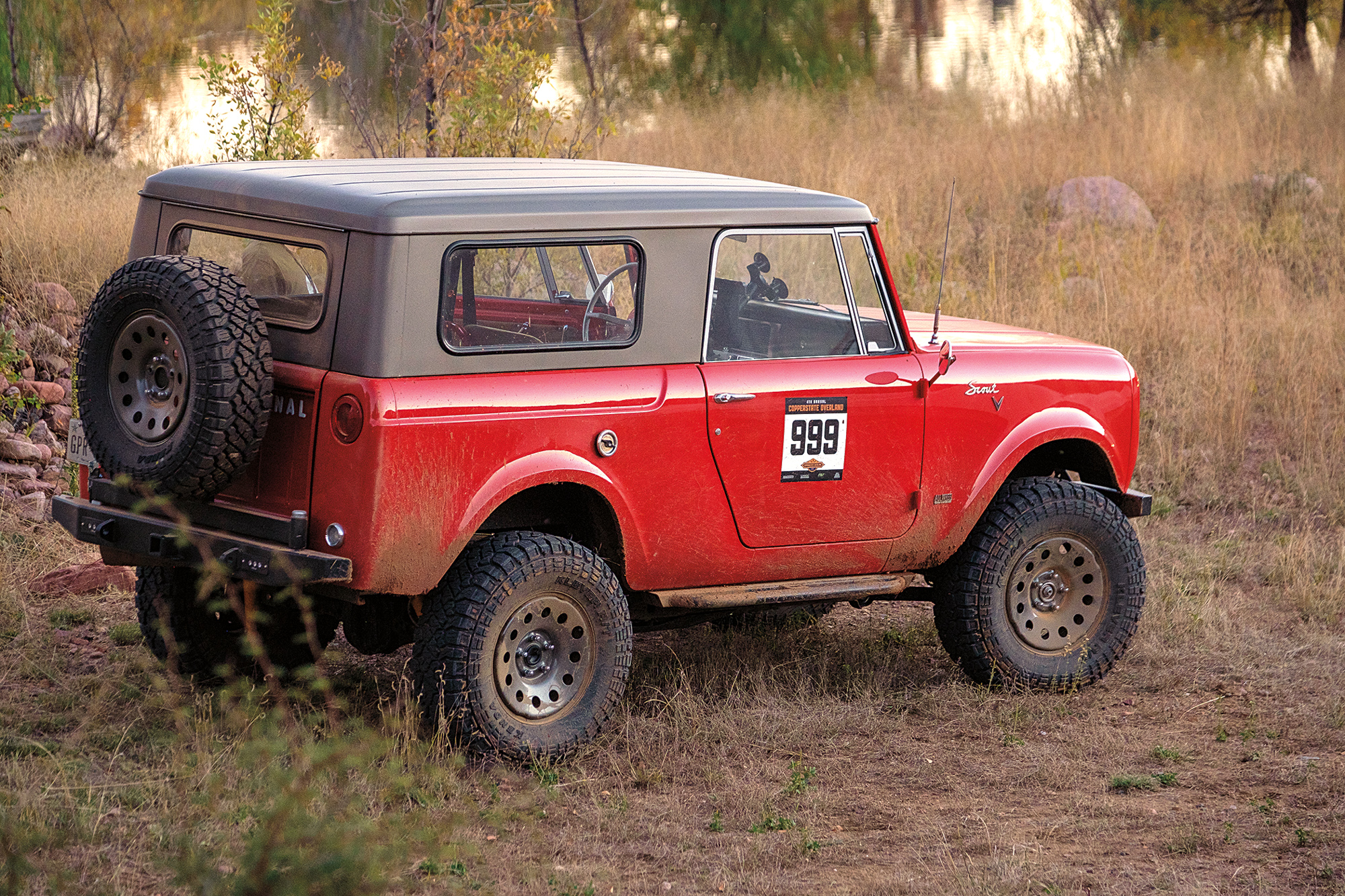 Yet, these trucks aren't perfect. There are little things that still need solving. For example, International Harvester never did a great job with window fitment on the 800s, and since aftermarket replacements haven't been developed yet, the gaps can be annoying in foul weather. Then there's the rear seating in the 800s which is less than ideal for adult passengers. These nuances are part of the Scout's nature, and not so much flaws in the restoration—that part was superb.
In the truck we drove cross-country, we could easily cruise at 70 mph without stressing the motor. And thanks to the modern suspension and steering, we never felt like the thing was going to dart off the road or suddenly lose control. On the trail, it doesn't buck or try to crush your spine with harsh impacts, but rather floats along as a JK should. In technical terrain, this truck will make grown men giggle thanks to its ample clearance, aggressive approach and departure angles, and suspension travel that borders on absurd for a 1960's vehicle. Simply put, it's a riot to drive.
But here's the thing, you can get all of that from a JK. What makes this truck special is the bond you form with it, and the unique experiences it provides. It might be faster, more comfortable, and more capable than the original, but it still feels like a vintage Scout. Driving it is like stepping back into a different time. A time when electronics weren't constantly trying to steal your attention, and you could just soak in the experience of the road and the beauty of your surroundings. Logically, I know that the truck itself doesn't change the journey, but months after parting ways with this Scout, my heart still races thinking of its V8 roaring through the hills. I dream of tossing a duffel into the back and setting out with nothing but a map and a cardinal direction to go on. The fact is that this truck revived a spirit of adventure in my soul that I didn't know I had lost, and pray I never lose again. Looking back now, I can see that the man who looked so mournfully at the Scout was right. They really don't make cars like they used to, but at New Legend, they're making them better than ever before.
SPECIFICATIONS
1978 INTERNATIONAL SCOUT II
POWER
GM LS3 6.2L engine
GM 6L80 6-speed automatic transmission
SUSPENSION AND DRIVE
Dynatrac Dana 44 front axle with ARB air lockers
Dynatrac Dana 60 rear axle with ARB air lockers
AEV 3.5-inch, dual-sport suspension
Outrider chassis with four-link coil suspension
running Jeep JK geometry
Atlas II twin-stick transfer case
Tom Wood's drive shafts
WHEELS AND TIRES
315/70R17 Mickey Thompson tires
Mickey Thompson wheels
RECOVERY AND ARMOR
New Legend roof rack with Putco LED light bar
New Legend bumpers with LED lights
New Legend step rock sliders
Warn Zeon 10-S winch
ACCESSORIES AND UPGRADES
Corbeau seats
Six-point roll cage with front cage legs designed for better space and function
Polyurethane protective bed coating on interior and underside
Dometic CFX Fridge
Custom center console
Custom dash gauge cluster integration
Rear cargo lockable storage cabinet
Italian saddle leather interior package
Black exterior trim package
Focal and Mosconi sound system with JBL subwoofer
New weather stripping and seals
Extensive heat and sound deadening
throughout interior